More ►
More ▼
Barred from setting up a stage, Selangor Mentri Besar Khalid Ibrahim nonetheless addressed a large Thaipusam crowd at Batu Caves late last night – from the back of a lorry, just like in the old days.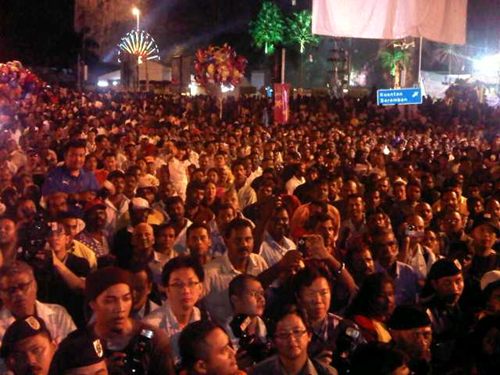 The view of the huge crowd from the lorry - Photo by an eyewitness
Selangor state government leaders took to the stage – actually, they were barred from setting up a stage – after Prime Minister Najib had left at around 11.15pm. (The PM, accompanied by his wife Rosmah and Cabinet members had arrived at 9.10pm and immediately launched into a charm offensive. Malaysian Insider report here.)
Not to be outdone, Khalid, his state exco members, and the Adun for Batu Caves, Amir Sari, then clambered onto a truck and spoke before a crowd of thousands near the viaduct not far from the main entrance to Batu Caves.
"When we got there this evening, we heard that the police had issued a warning that they would arrest us for illegal assembly if the planned stage was put up," said a Selangor state exco member, when contacted. "But the local council came to our rescue and improvised with their enforcement truck."
About 15 police personnel arrived while Khalid was addressing the crowd from the lorry but they were somewhat hindered by the crowd, according to the exco member. Selangor state exco member Dr Xavier Jayakumar then jumped down and negotiated with the police for "15 minutes more".
This is the first time the Selangor state government is taking part in the celebration, with a tent at the site serving almost like a state government 'open house'.