More ►
More ▼
PENANG, July 11 (Bernama) -- The Penang state government on Saturday made a police report regarding the ownership of the land in Kampung Buah Pala, Bukit Gelugor, here.

The report was made by Komtar state assemblyman Ng Wei Aik at the Timur Laut police district headquarters at 1.20pm today.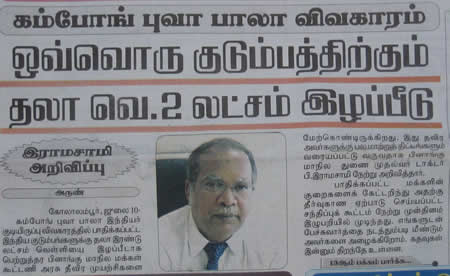 makkal osai
Speaking to reporters later, Ng, who is also the political secretary to Chief Minister Lim Guan Eng, said he wanted the police to investigate in detail the sale of the land.
"This is a big question regarding whether there is anyone having self interest when approving the land sale," he said.
Earlier, the present Penang state government had charged that the previous Barisan Nasional (BN) state government had sold the land cheaply to the Penang Government Officers Cooperative.
"Although the award of the land (to the cooperative) was to replace the site next to Dewan Sri Pinang for an additional court building, we find that the approval was made without reference to the market value reports for both the sites," Ng said.
The Kampung Buah Pala issue arose when the villagers were asked to vacate the land after the Federal Court rejected their appeal to remain there as they had been doing for a long time.